Mexico and the Yucatán Peninsula
The Yucatán Peninsula is located in south-eastern Mexico. It is bordered by the Caribbean Sea on the east, by the Gulf of Mexico on the west and the Sierra Madre del Sur in the south. The peninsula is approximately 300km long and 250km wide. The coasts are fringed by coral reefs in the east, while mangrove and swamps develop in the north and west.
This is one of the most interesting places in the world for flora and fauna. It is divided into three Mexican states: Campeche, Quintana Roo and Yucatán. In this region, several nature reserves are present, and the most important are those of Calakmul (Biosphere Reserve), Ria Celestun (Biosphere Reserve) and Otoch Ma'ax Yetel Kooh (reserve for flora and fauna).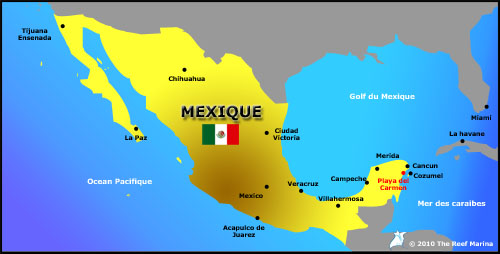 Playa del Carmen and "The Reef Marina"
Located 70km south of Cancún, Playa Del Carmen - or just "Playa" to the locals - lines the shores of the Caribbean Sea in Mexico's Yucatán Peninsula. Famous for its beautiful white sand beaches, magnificent sea and cenote dives, this small fishing village has kept its peaceful charm.
The buildings are low and the atmosphere is always authentic. The temperature rises at sunset. The atmosphere in the bar reaches its peak around midnight and La Quinta, a quiet pedestrian street in the day, turns into a lively place at night.
"The Reef Marina" is located in Playacar, on the beach of the hotel "The Reef Playacar Resort & SPA" , a five (5) minutes walk from downtown and near the ferry station to Cozumel.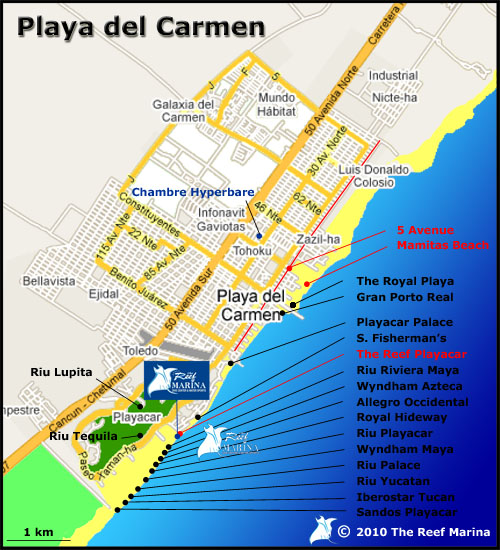 See the map of dives that we offer: Map of the dive center "The Reef Marina"